Get FREE standard shipping on orders over $100

SECURITY CAMERA EXTENSION CABLES
Lorex offers two different types of wired HD security camera systems - Digital and Analog. Each type of system uses different technologies to provide high-definition video. The type and length of extension cables you can use depend on the type of system you have.
Digital IP systems use CAT5 or CAT5e (or higher) ethernet cabling to connect IP cameras to the network or a Network Video Recorder (NVR). This cable simultaneously transmits video and audio (if applicable) to the NVR and provides power to the camera.
Standard Extension Cable Set-Up
Connect Cat5 cable directly to a Network Video Recorder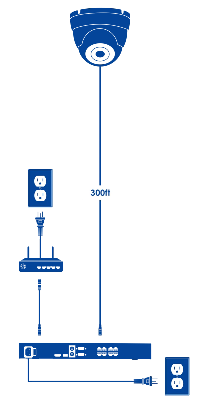 PoE Switch Extension Set-Up
Connect IP cameras to a network using a PoE switch and router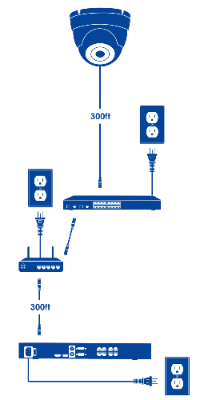 For distances longer than 300ft, connect cameras to an accessory PoE switch with the help of your router. Add another PoE switch for more distance.
Connect IP cameras directly to your router (power separately)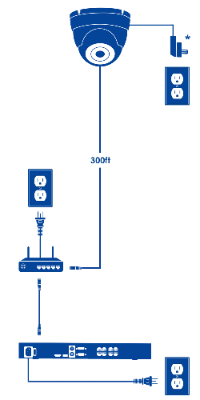 Extend camera up to 300ft from a router. You must connect the power adapter directly to the camera if the router does not support PoE. Power adapter sold separately
Analog security cameras transmit high-definition analog video over shielded or RG59 (or higher) BNC cables to a Digital Video Recorder (DVR). Lorex offers siamese BNC cables, which split into two ends, one for video and one for power.
Standard Extension Cable Set-Up
RG59 coaxial siamese extension cable up to 300ft / 90m (video and power)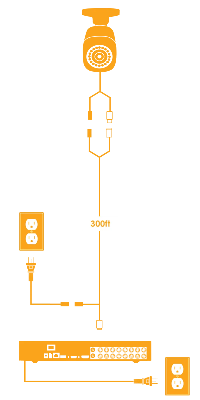 Extended Video Only Set-Up
RG59 coaxial extension cable up to 800ft / 242m (video only)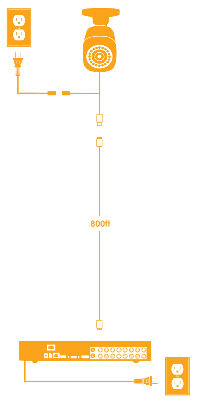 Extend the video signal up to 800ft using a single run of RG59 cable. Longer cable runs are available from building supply stores
Attach a BNC coupler to connect two separate BNC extension cables
Use a BNC coupler to connect two 60ft or two 100ft cables. The camera may have to be plugged into a power source.
Learn More About Security Camera Installation
Please see our other installation articles for additional information and support.