Get FREE standard shipping on orders over $100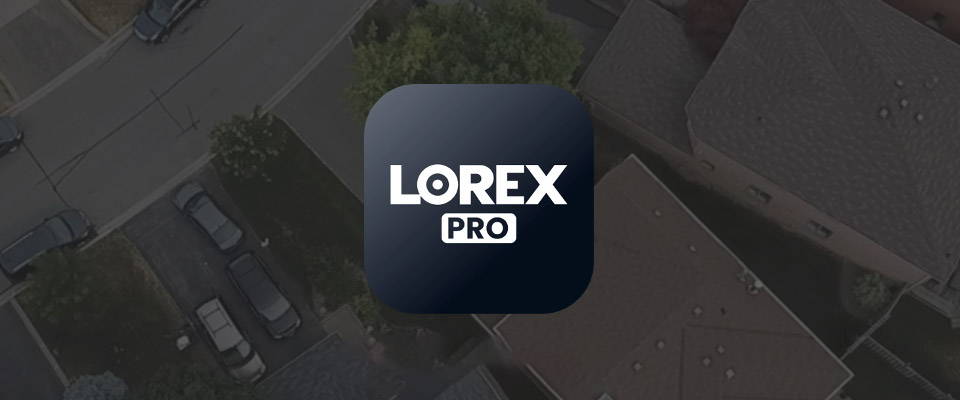 Refreshed user interface and experience

AI motion detection support

Light and dark modes

Advanced recorder and camera settings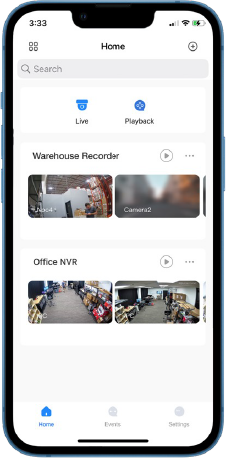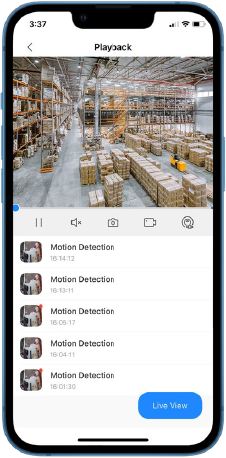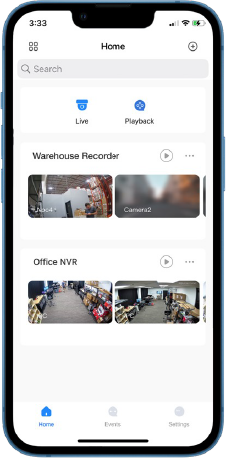 Add device

This button allows users to add additional recorders and devices to their app.

Toggle device view

Allows the user to toggle between thumbnail view and list view for their connected devices.

Multi-channel live view

Access multi-channel view view on the selected recorder. Can toggle between 4, 9, or 16 channels.

Device settings

Access the settings page for the selected recorder.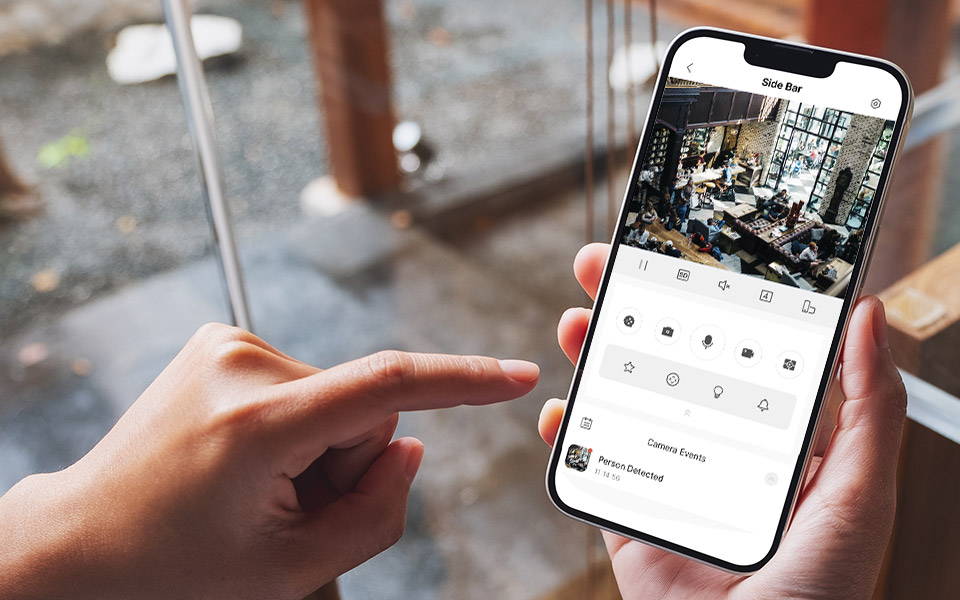 Snapshot

Take a snapshot of the live view. This will be saved to the 'Snapshots and Recordings' folder.

Talk

Use your phone's microphone to talk through the camera's speaker, using the two-way talk feature

Record Video

Manually record what's happening on your camera. This will be saved to the 'Snapshots and Recordings' folder.

Pause Stream

Stop the live view streaming for all active channels.

Playback

Access the playback timeline for the current device.
Favorite

Add the selected channel to the 'Favorites' folder in settings, for quick and easy access.

Pan-Tilt-Zoom

Access the PTZ controls and presets on supported cameras.

Light

Activate your camera's deterrence light to deter unwanted visitors or intruders.

Siren

Activate your camera's siren to deter unwanted visitors or intruders.
*Camera functions will vary based on camera model.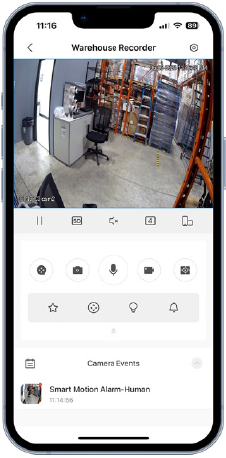 This where users can view the live stream of their cameras.
Users have access to streaming controls:

| | Pause / resume stream |
| --- | --- |
| | Toggle between main and sub stream resolutions |
| | Mute / unmute stream |
| | Toggle between 1, 4, 9, or 16 channel view |
| | Access full screen |
From this page users can navigate through all video events stored on their device's hard drive.
To navigate, tap the icon to select up to 4 channels and then tap the date selector to filter by date and detection types.
Users can also tap on to adjust the playback speed from 0.25× to 8× speeds
From here, you can use pinch to zoom in or out on the timeline, or drag left and right to move forward and backwards through time.
Users can also use the scissors tool to clip a specific area from the recorded event, which will be saved to Snapshots and Recordings.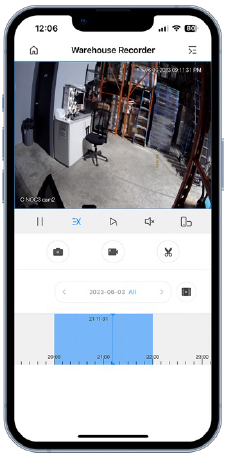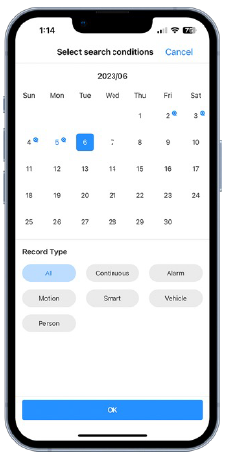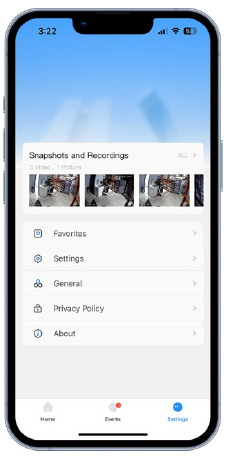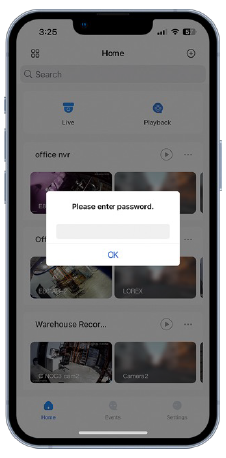 This where users can view the live stream of their cameras.


Access Snapshots and Recordings, as well as favorited channels.

Change appearance from light to dark mode.
Set a password for enhanced app security.
Access advanced OSD recorder settings directly from your Lorex Pro app


Control and edit main stream and sub stream settings such as resolution, audio, encoding, and frame rate.

Configure push notification settings, camera settings, detection settings, and more.

Tweak image adjustment settings such as contrast, brightness, vibrance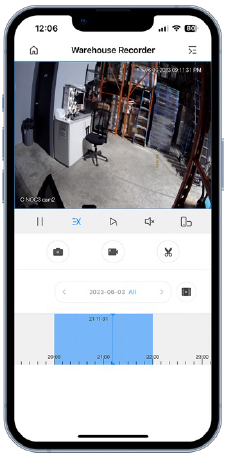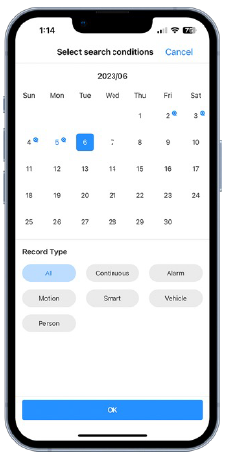 Advanced App Features Comparison
All Lorex Apps allow you see live views or watch recorder playback, find events using easy-to-read motion timelines, save snapshot and videos directly to the app for safekeeping, and configure camera/system settings.
 

Lorex Pro

Used by the latest professional NVRs

Lorex Cloud

Used by legacy professional NVRs.

Lorex Home

Used by Smart Home devices, Fusion Recorders, and Analog DVRs.

Lorex Cirrus

Used by NVR Wire-Free Security Systems

Motion Alerts
Smart Motion Detection*
Standard Motion Detection
Smart Motion Detection
Person Detection Only
Actvate Deterrence Lights
✓
✓
✓
Two-Way Talk
✓
✓
✓
Light & Dark Modes
✓
Pan-Tilt-Zoom Controls
✓
✓
Pan and Tilt Only
IP/Domain Device Connection
✓
✓
✓
Shared User Access
up to 128
up to 128
up to 6
✓
Multi-Channel Grid Viewing
16
16
9
8
*Smart motion detection types will vary based on recorder and camera models
Lorex Pro is optimized for Lorex N884-series recorders. Compatibility with other models is not guaranteed. Other Lorex Cloud compatible models may work with the Lorex Pro app, but functionality may be limited.