Get FREE standard shipping on orders over $100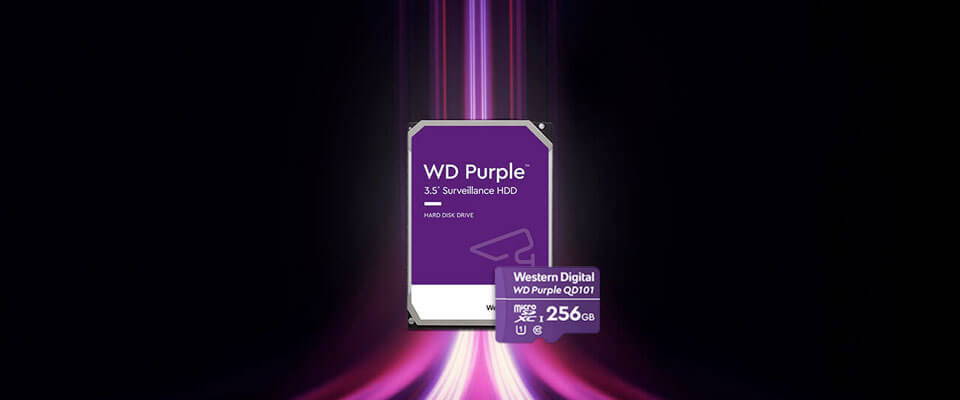 Hard Drives & MicroSD Cards Built for the High Demands of Security Monitoring
Lorex uses Western Digital (WD) Purple hard drives and microSD cards to provide the most reliable storage for our NVRs, DVRs, and Wi-Fi devices.
Western Digital Purple Storage
With almost 50 years of experience in data storage engineering and manufacturing, Western Digital is a worldwide leader in the hard drive industry. Their line of Purple surveillance storage solutions have been built to be especially durable and long-lasting to ensure unmatched reliability when it comes to your security data.
Consumer VS. Surveillance
WD Purple storage hard drives and microSD cards have a much higher workload rate than their consumer branded counterparts. For example, the average desktop or laptop hard drive has a workload rate of about 55TB/year (assuming it's being used about 40hrs per week). On the other hand, WD Purple surveillance drives have a workload rate of 180TB/year, based on security recorders that operate 24/7. Likewise, the expected life of a Purple microSD card is much longer as well. For example, the 256GB microSD card will typically last around 100 months, compared to around 40 months. This higher workload rate greatly increases the reliability of the hard drive, so that there is a much lower risk of hard drive failure or data loss.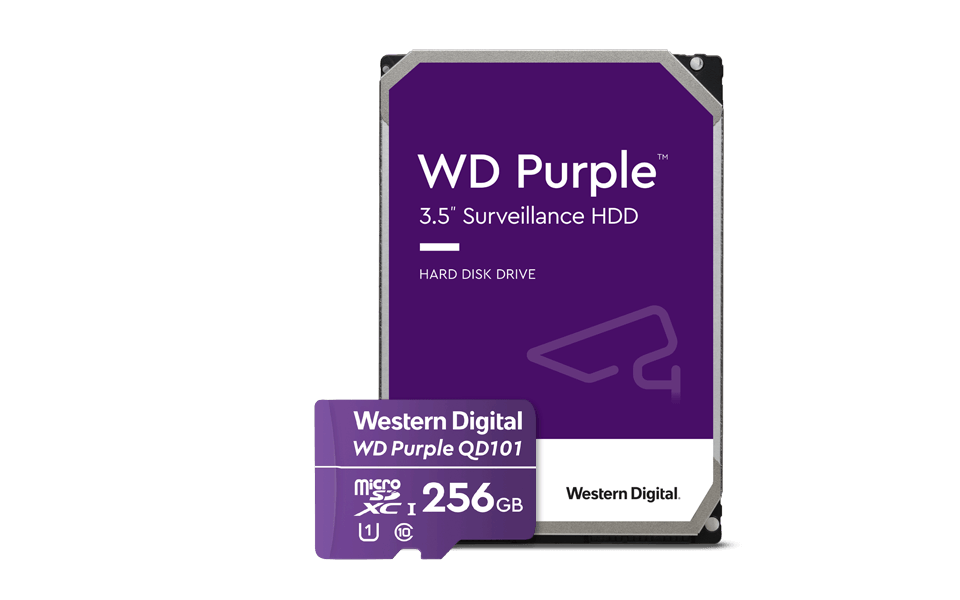 Exclusive AllFrame 4K™ Technology
Exclusive AllFrame 4K™ Technology
Western Digital surveillance hard drives feature AllFrame 4K™ Technology that is specifically tuned for video streaming/playback and can support up to 64 cameras simultaneously! AllFrame 4K™ Technology greatly improves ATA streaming to help reduce frame loss, improve overall video playback, and more. This means Lorex security systems deliver quality video streaming and playback, whenever you need it.

Addressing the need for higher camera counts and higher resolutions, WD Purple drives are engineered with specific technology to handle simultaneous high resolution video streaming and continuous recording.

WD Purple drives use field-proven HelioSeal™ technology to ensure reliable high-capacity storage (up to 12GB) for the massive data needs required for 4K surveillance video.

IntelliSeek™ technology keeps the power required to operate the hard drive very low. In fact, WD Purple drives can calculate optimum seek speeds, which keeps ambient noise and vibrations at a minimum.
Maximum hard drive space for Lorex NVRs, DVRs, and Wi-Fi devices
Most hard drive's within Lorex recorders or devices can be upgraded after purchase. Select recorders have two separate hard drive bays for additional storage. Please see your product's documentation to find out the maximum storage.